Tecnifibre Slash 125 Squash Racquet
---
Or 4 interest-free payments approximately of
AED 230.00
Select Tabby at checkout.
Tax included. Shipping calculated at checkout.
---
---
---
Description

Shipping Policy

Reviews
SLASH THE CODES !
Designed for the new squash superstar, Mostafa Asal, the SLASH range breaks the mould of traditional rackets with "open core" ergonomics, a new construction that maximises power and an exceptional look.

All the rackets in the range are equipped with X-TOP revolution. No bumper, 100% performance, a completely new racket head construction where the bumper has been replaced by a combination of active fibres for maximum resistance, speed and playability. The plastic bumper has been replaced by a mix of aramid fibres, the most impact-resistant material, and a PTFE treatment to improve slide and protect the frame against abrasion from the floor or walls. Without the bumper, the racket becomes much smoother and penetrates the air better for maximum swing speed and power. With the plastic replaced by this material, there are more fibres in the racket for greater responsiveness and less vibration for greater comfort.
Designed for attacking players looking for winning shots, the SLASH 125 squash racket represents the ultimate in speed and power.

Extremely light, with a frame weight of 125 g, it's the best in manoeuvrability for maximum swing speed and power.
To optimise power even further, the racket is built using YOKE POWER TECHNOLOGY: larger and longer 485 cm² head to increase string elasticity, narrower open core with external reinforcements for greater rigidity and a larger 390 mm² oversize shaft for maximum power.

Pre-strung in 305 green, the benchmark for the squash market, and Tecnifibre's most elastic string for the best compromise between power and comfort.

Innovation like this calls for an exceptional design. A sleek white base and X-TOP in light grey for pure elegance. From a colour point of view, a strong choice with fluorescent green in a graphic weave. The TF logo has been "slashed" by Mostafa to blend in with the Tecnifibre lettering and the racket frame.

The epitome of elegance and modernity.
Lightweight and easy to handle
X-TOP revolution
The most powerful
Strung in 305 green
The epitome of elegance and modernity
Range - SLASH
Material - Graphite
Head size - 485cm² / 75in²
Weight - 125g / 4,4oz
Balance - 362mm
Length - 68,5cm
Stringing pattern - 14x18
Stringing presence - Yes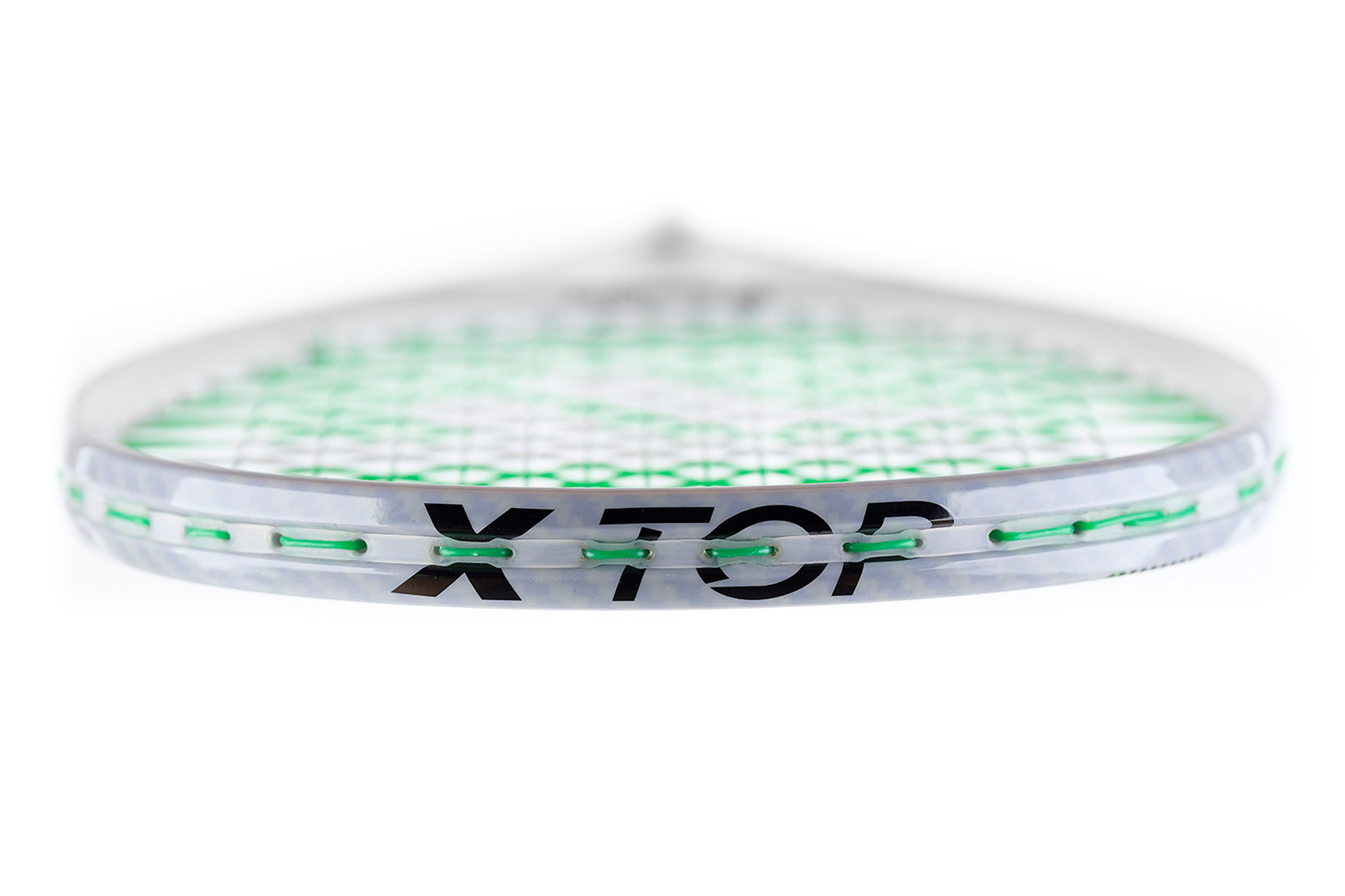 THE X-TOP REVOLUTION
No bumper, 100% performance, a completely new racquet head construction where the bumper has been replaced by a combination of active fibres for maximum strength, speed and playability.
YOKE POWER TECHNOLOGY
Bigger and longer headsize to increase string elasticity, smaller yoke area for more stiffness and oversize shaft providing overall explosive power.
305 STRING : REFERENCE STRING FOR SQUASH
Rackets pre-strung in 305, the reference in squash, the most elastic string for maximum power and comfort.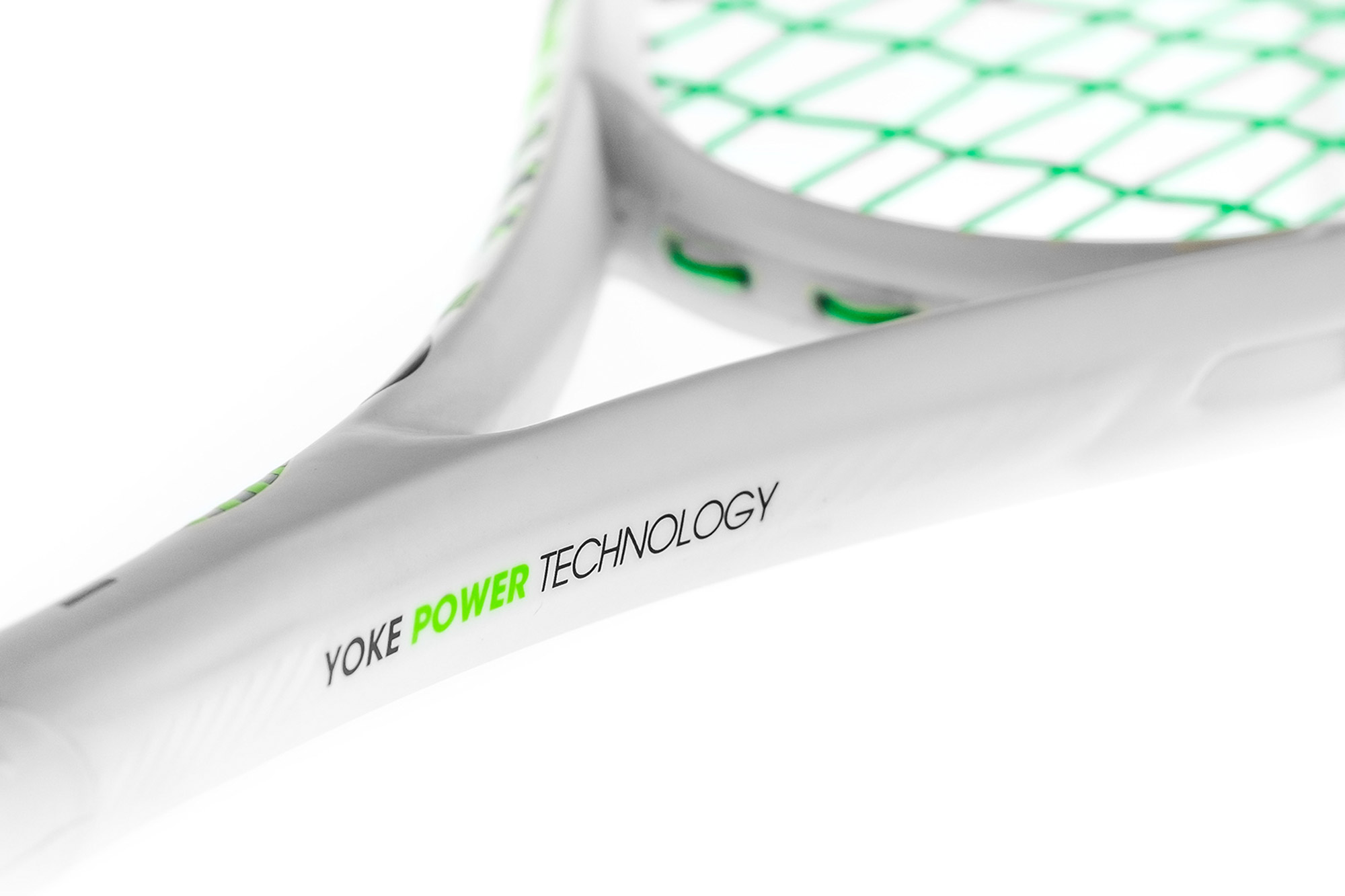 We offer free shipping on all orders over د.إ100AED, and we deliver all over the UAE
We offer delivery to all regions of the United Arab Emirates. To most of the main cities like Dubai, Abu Dhabi, Sharjah, Al Ain, Ras Al Khaimah, Ajman, and Umm Al Quwain. We will deliver within 3 working days. If you need more details about the delivery times to other cities or remote areas, please contact us.
We offer heavy-duty items that require shipping from various locations, and the pickup location for these items is typically located far from the city. Due to these factors, delivery times for heavy-duty items may vary, typically ranging from 8 to 10 days depending on the specific item and brand. For more information on delivery times for heavy-duty items, please contact our customer support team, who will be happy to assist you
Other GCC Countries:
We provide shipping to Bahrain, Kuwait, Oman, Qatar, and Saudi Arabia with free shipping for orders above د.إ500AED.
Orders below د.إ500AED will be charged AED 100 for shipping. Please note that the recipient is responsible for paying any applicable customs duties as per government regulations.
Tracking:
We will send you a tracking number that you can use to track the order online. Upon request, we will provide the mobile number of the representative who will oversee delivering the order to you.
Missing or Damaged Items:
Although great care is taken while packing, damage does occur occasionally during transit. To help us claim the damage and speed up the reimbursement process we require that you perform the following steps:
Call customer service directly after discovering the problem. Please have your order number available so that we can assist you as quickly as possible.
If the item has any damage or any content missing, please request an RTO (Return to Origin) within the first 7 days of delivery. Athletix will not take responsibility for the damaged item(s) after this period.
Always take photos/videos of any damage.
Do not throw away any of the original inner or outer packaging.
Cancellation or Returns/Replacements:
We offer a hassle-free return policy. If the customer is not 100% satisfied with his purchase from us, he/she can return or replace the product within 14 days from the date of delivery.
All regularly stocked items can be returned free of charge within 14 days of receipt, so long as they are unused/unopened and in the original packaging.
Our Cancellation. We may cancel your order(s) if:
you do not make any payment to us when it is due; or
you do not, within a reasonable time of us asking for it, provide us with information that is necessary for us to provide the products; or
You do not, within a reasonable time, allow us to deliver the products to you or collect them from us; or
You attempt to bulk or multi-order purchase, where we reserve a right to cancel any order(s), at our sole discretion. or
Order(s) not being capable of fulfilled due to product(s) not being available. or
If our supply of the product is delayed by an event outside of our control.
Installation:
A note should be made that equipment installation can be arranged upon customer request, but it comes at a cost that varies depending on the specific product.
However, once the installation of Fitness Equipment is done, under any circumstances, it shall not be refunded. In case, a manufacturing defect is found on the installed Fitness Equipment, it will be either replaced or repaired free of cost.
Unfulfilled Orders:
In the event that we are unable to fulfill an order, we will inform the customer by email/phone. For the prepaid orders, we will issue a refund to the customer. The refund will be credited to the same mode of payment that was used to place the order.
Please note that it may take up to 30 business days (Depending on the service provider) for the bank or credit card company to process and post the refund. If more than 30 business days have passed since we approved your return and you have not received the refund, please contact us at info@theracquetshop.com for assistance.
For more information write us at info@theracquetshop.com or call us at +971 5859 903 02.